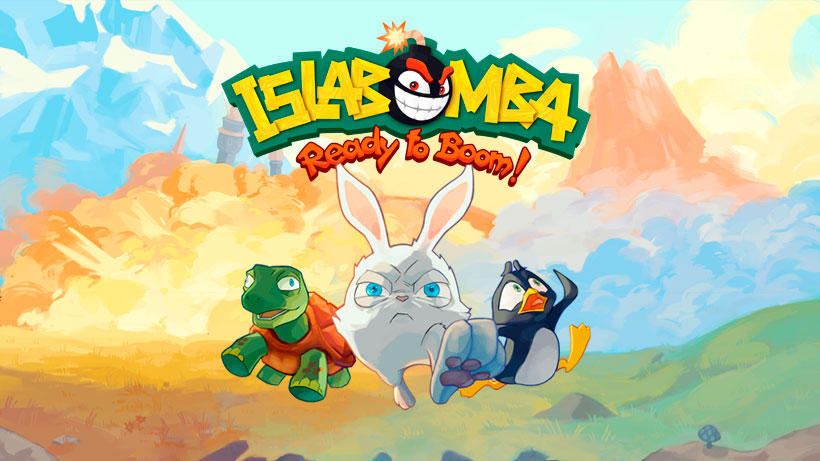 Islabomba – Ready to Boom is an online co-op game for 3 players only for Hatch. Play together with your friends or other players to complete amazing platform stages and put all bombs our before everything blows up!
This fearful penguin can pick bombs and characters up with his wings and throw them into the air. Moreover, he's an extremely skillful swimmer.
Irritable, agile and fast. This peculiar rabbit can jump, walk on bombs and push them into the water quickly. But watch out, he can't swim!
Slow and with a great inner world, he can push buttons to activate mechanisms, swim, carry his friends on his shell and much more.
PLAY ANYWHERE
From your mobile phone
MULTITUDE OF LEVELS
Diversity of scenarios
CLASSIFICATIONS
Compete with your friends
3 HEROES
With different habilities
<style type="text/css"><!-- [et_pb_line_break_holder] -->.nh_button.closed:after {content:"";}<!-- [et_pb_line_break_holder] -->.nh_button.opened:after{content:"";}<!-- [et_pb_line_break_holder] --></style><!-- [et_pb_line_break_holder] --><script type="text/javascript"><!-- [et_pb_line_break_holder] --> jQuery(document).ready(function() {<!-- [et_pb_line_break_holder] -->// Hide the div<!-- [et_pb_line_break_holder] -->jQuery('#newhere').hide();<!-- [et_pb_line_break_holder] -->jQuery('.nh_button').click(function(e){<!-- [et_pb_line_break_holder] -->e.preventDefault();jQuery("#newhere").slideToggle();<!-- [et_pb_line_break_holder] -->jQuery('.nh_button').toggleClass('opened closed');<!-- [et_pb_line_break_holder] -->});<!-- [et_pb_line_break_holder] -->});<!-- [et_pb_line_break_holder] --></script>
<style type="text/css"><!-- [et_pb_line_break_holder] -->.nh_button2.closed:after {content:"";}<!-- [et_pb_line_break_holder] -->.nh_button2.opened:after{content:"";}<!-- [et_pb_line_break_holder] --></style><!-- [et_pb_line_break_holder] --><script type="text/javascript"><!-- [et_pb_line_break_holder] --> jQuery(document).ready(function() {<!-- [et_pb_line_break_holder] -->// Hide the div<!-- [et_pb_line_break_holder] -->jQuery('#newhere2').hide();<!-- [et_pb_line_break_holder] -->jQuery('.nh_button2').click(function(e){<!-- [et_pb_line_break_holder] -->e.preventDefault();jQuery("#newhere2").slideToggle();<!-- [et_pb_line_break_holder] -->jQuery('.nh_button2').toggleClass('opened closed');<!-- [et_pb_line_break_holder] -->});<!-- [et_pb_line_break_holder] -->});<!-- [et_pb_line_break_holder] --></script>
<style type="text/css"><!-- [et_pb_line_break_holder] -->.nh_button3.closed:after {content:"";}<!-- [et_pb_line_break_holder] -->.nh_button3.opened:after{content:"";}<!-- [et_pb_line_break_holder] --></style><!-- [et_pb_line_break_holder] --><script type="text/javascript"><!-- [et_pb_line_break_holder] --> jQuery(document).ready(function() {<!-- [et_pb_line_break_holder] -->// Hide the div<!-- [et_pb_line_break_holder] -->jQuery('#newhere3').hide();<!-- [et_pb_line_break_holder] -->jQuery('.nh_button3').click(function(e){<!-- [et_pb_line_break_holder] -->e.preventDefault();jQuery("#newhere3").slideToggle();<!-- [et_pb_line_break_holder] -->jQuery('.nh_button3').toggleClass('opened closed');<!-- [et_pb_line_break_holder] -->});<!-- [et_pb_line_break_holder] -->});<!-- [et_pb_line_break_holder] --></script>