Alberto -our CEO and Product Manager- smiled some days ago when he had to answer a sudden and unexpected question, to which he said there are diamonds in the heart of the team. Diamonds, he affirmed, and he named the women of this company.
The female potential and contribution as strong points in a company isn't an approach widely spread in the video game industry, which was confirmed in the latest edition of the White Book of the Spanish Video Game Development: the percentage of women who have direct jobs in this industry is 17% in 2017. 17%, and Natalia, our UI Designer and Filmmaker, looks really worried. It's an offensive amount, she points, and it's true: the ins and outs of this industry are built on patriarchal structures, involving gender inequalities and end up producing for a predominantly-male audience. But A spectre is haunting Europe – the spectre of feminism. With these very same words, but referring to communism, Marx and Engels started to write the manifest which will provide the world with a new version. This is how giants stretch: with a roar that will make the Earth tremble. The voices which are rising to denounce an unfair situation are getting more and more powerful, larger and unstoppable.
Irene, 2D Artist, seems shy but sure when she affirms the barrier between both sexes has started to disappear thanks to the public. She's been drawing since she was little, she's self-taught, and nowadays she works as a freelancer. We play an increasingly important rol and have more visibility, Alicia adds, one of our UI designers, who takes this opportunity to say that women working in this industry and female gamers are proving their value and importance. The difficulty of accessing this world is everywhere, including the smallest details. We shouldn't have to prove anything, Gin says through her teeth. She said one of the reasons why she doubted whether or not accepting the role of Concept Artist at Sons was to be welcomed by a team that back then was formed by 14 men, and only 3 women. It was an uncomfortable situation, she says, to be asked to work with so many men in a reduced space and to know I'd have to consolidate as a professional, and a woman, among them. Natalia grimaces and then says that we have to fight fiercely to reach the privilege that men have. The truth is that it shouldn't be a privilege. The truth is that equality should be a right of birth. However, Natalia shrugs her shoulders and says that feeling uncomfortable with a first impression like that is normal. Specially if you aren't used to something like this. From my experience, in all the companies I've worked for, when women are hired the atmosphere turns more empathetic and agreeable.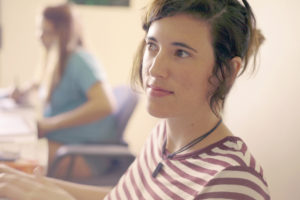 Without intending it, our UI Designer and Filmmaker has just light the candles for the future, little lights that talk about faith and resistance. Natalia, who studied Graphic Design at the Murcia Design School, has gained her experience working on projects for other companies, with the idea of making a living with 2D animation and sharing significant messages with her works. Vitality puts out in her dreaming expression, in her creative appetite which is impossible not to get infected. She widely opens her eyes to add emphasis when she imitates a voice to repeat a question she's been asked too many times: How do you feel being the only woman at the office?, because it makes her understand she wasn't recognizing the importance of that situation, of those unfortunate comments about her, questioning her professionalism because of her gender. Alicia quickly takes part in the conversation: we shouldn't be intimidated by working with a male majority. For me, they're all partners, I don't care of they're men or woman. Emma, 3D artist, adds more information about this matter, with a soft voice: It's something I don't pay too much attention. Emma, as Mayca, studied engineering degrees, a predominantly-male field. Her neutrality comes from a constant exposition to a world which doesn't change fast enough. During my degree, chauvinist comments didn't come from my classmates, but from my professors, Emma starts to tell us, after digging in her perspective. In one of the lectures about Heat Transfer, the professor said something like "Imagine we have the frying pan back on the heat. Maybe, women would use if for another thing….". Another similar experience took place during an examination. I was in the front row in the classroom, starting to answer the questions, when the professor stopped in front of me, kneeled and leaned forwards. He simply stayed there, I wasn't able to look him at her face. My classmates told me that was a type of harassment.
Worrying isn't enough to describe how serious this matter is. Mayca takes the opportunity to affirm that the position of women in the video game industry and computer engineering in general is hard: The idea that this world isn't for us is still embraced. Mayca has always been a lioness in a pack of wolves since she started the technological bac, where she was the only girl of 8 students, a situation that was repeated when she started Computer Engineering. Even at Sons, Mayca is our only female programmer. She's thankful to work with us, not only for her insatiable thirst for knowledge, also to be giving the opportunity to understand the roots of this world and try to play her part. I think there are many social barriers to destroy, although society is more and more aware of this issue little by little, she has a ready smile in her face when she says there are a lot of slow learners out there.
Xenia, our 3D Artist, defends that women have never been treated differently at Sons of a Bit, always equally and respectfully. We're a small development company and there mustn't be men or women, there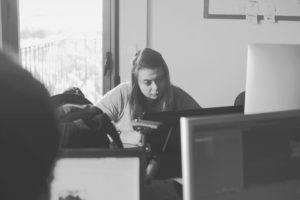 must be partners you can trust and learn from, she emphasizes. Xenia, just like Emma, is attending courses related to video games at University of Murcia to learn as much as they can about this field. She's a strong and determined person, raised by adversity, and totally committed to go as far as possible in this industry, not only with her own projects, but also in and out of Spain.
This raises another question. Inside the industry, are we considered coworkers or women in the first place?
That's one of the problems; first of all, we're sexualized and then considered as workers. How serious this issue is is reflected in Gin's face, Mayca agrees. Gin graduated in Fine Arts, she shaped her portfolio throughout years as a freelancer and ended up working on the video game industry thanks to Sons. She had never though about making video games for a living, being part of a team focused on that, it was such a remote possibility and totally out of her reach. During the degree, mentioning video games equaled to an expression of dislike in the faculty's faces, mostly snob, so the lack of knowledge about this industry was widely encouraged by the formal education itself. Ironic, she says, with a sarcastic smile. What she appreciates most during her training is her own experience as a freelancer, which started thanks to the Internet. Tumblr and Twitter are a constant revolution: minorities stop being such and hold the weapons not only to conquer the Bastille, but to reduce it to a pile of rubble and, with it, the white, heterosexual, patriarchal way of thinking.
This discourse seems to raise another point in the conversation: are products coming from an industry ruled by men a masculine sexual fantasy?
Games have an educative component, in one way or another. The thing is that the fact that some games are masculine sexual fantasies don't happen exclusively in the video game industry, but also in the film one, and this makes women be objectified and sexualized, which encourages chauvinism. Emma is shy, but her illusion and determination are overwhelming. She'd like to run her own business in the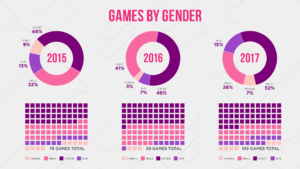 industry to prove herself, she appreciates cooperation within a team and everything she can learn from other mates. She stopped studying a degree in Engineering and started to study Fine Arts, which changed her life. Her words are undeniably true, which are shared by Natalia: a vast majority of video games are fantasies about male power and domination, which represent a harmful and wrong message for that public who has grown with video games. In that list, we'd include even those who are suitable for all audiences, such as Super Mario or Zelda, in which the princess must be saved because she is unable to save herself or fight alone the bad guy. Games have changed and now we have a wider variety of topics and approaches, with different sensibilities. But is that true? If we have a look at games and sagas as Until Dawn (2015), Beyond: Two Souls (2013), Grand Theft Auto (1997- 2013), Final Fantasy (1987-2016), Nier: Automata (2017), God of War (2005-2018), and many more, some of them really important this year, it's almost unnecessary to say that most games are products that objectify, sexualize and subdue women.
Those problems are also on video and streaming platforms, as stated by Alicia and Irene. Alicia has studied Vocational Training in Illustration and Graphic Photography at the Art School of Murcia, and she's about to complete a Graphic Design course at the Design School of Murcia. She's a determined woman, not afraid to express herself or make her voice heard. She's found a motivation to work for Sons in the design department. Youtube, streaming/filmmaking are monopolized by men. But that isn't going to stop her; however, her ambition is focused on making comis, keeping working on vide game development and streaming. She's ready to fight whoever it takes for her right to be considered as valued as any men, something the other women in the studio share.
Xenia's voice is firm when she adds: in such a young industry, old-school habits don't make sense. Her words keep a strength from which it's impossible not to get 'infected': it's true and undeniable there's still a chauvinist thought almost everywhere: job posts, salaries, social conduct, etc. The good thing about this industry is that it's made by the existence of different and incredible people who gather to make wonderful projects. Having people of different sexes, cultures and religions makes working on the video game industry a unique experience full of diversity and possibilities.
There are still much work to do, Irene concludes, who would like to find her place as an artist in the industry and who's studying a university course about Character Creation for Animation and Video Games in Murcia, because there are endless obstacles nowadays, as female players and creators. It's like they didn't want us to be part of it, because they feel it belongs to them.

It's like we were a threat.
Did you hear that?
The earth tremble by the steps of those huge women.
A (brief) article by Arlet Hinojosa Martínez.