Here I am with one of the people who have worked at Sons of a Bit for longest and, this time, I'm going to try to make all you know him and his work in the team deeply.
Adrián – Hi! Could you please introduce yourself?
Álvaro – My name's Álvaro Jaén, I'm from Albacete (Spain), I'm 32 and I work as an Art Director for the company. Together with my mate Raúl Bernabé, I'm in charge of the artistic side of some projects.
Adrián – Great. Please, tell us something more about you. When did your interest in video games begin?
Álvaro – When I was little. My brothers bought an Amstrad and we used to spend the days playing its games. We were completely hooked!
Adrián – So your passion for video games has to do with your family. Some kind of friendly sibling rivalry, right?
Álvaro – Exactly. It's my brothers' fault.
Adrián – Your formal education has to do with video games, doesn't it? Did you decide you wanted to work for this industry while studying or did it happen later?
Álvaro – It was later. Although I've always liked everything related to video games, there wasn't any kind of studies about them in Albacete, my hometown. So I decided to study a Business Administration degree.
Adrián – But you weren't happy.
Álvaro – No, I wasn't. I spent several years working for a company and I finally realized it wasn't really what I'm about. It was such a monotonous job for me. So I quit the job and I went to Valencia to study a corse about 3D Animation and Video Dame Development.
Adrián – So you studied a high grade, didn't you?
Álvaro – Yes, I did. I studied at Florida Replay, Valencia, and when the course was over I gained some experience at Sons of a Bit. I got in contact with Alberto and Eduardo because I had seen Islabomba, the game they were developing, and I liked it.
Adrián – Did you already know Islabomba?
Álvaro – Sure, I searched for different indie game studios on the Internet and Islabomba caught my attention. They contacted the University, then they had a look at my portfolio, which they liked, and made me go to Murcia because they wanted me to work with them.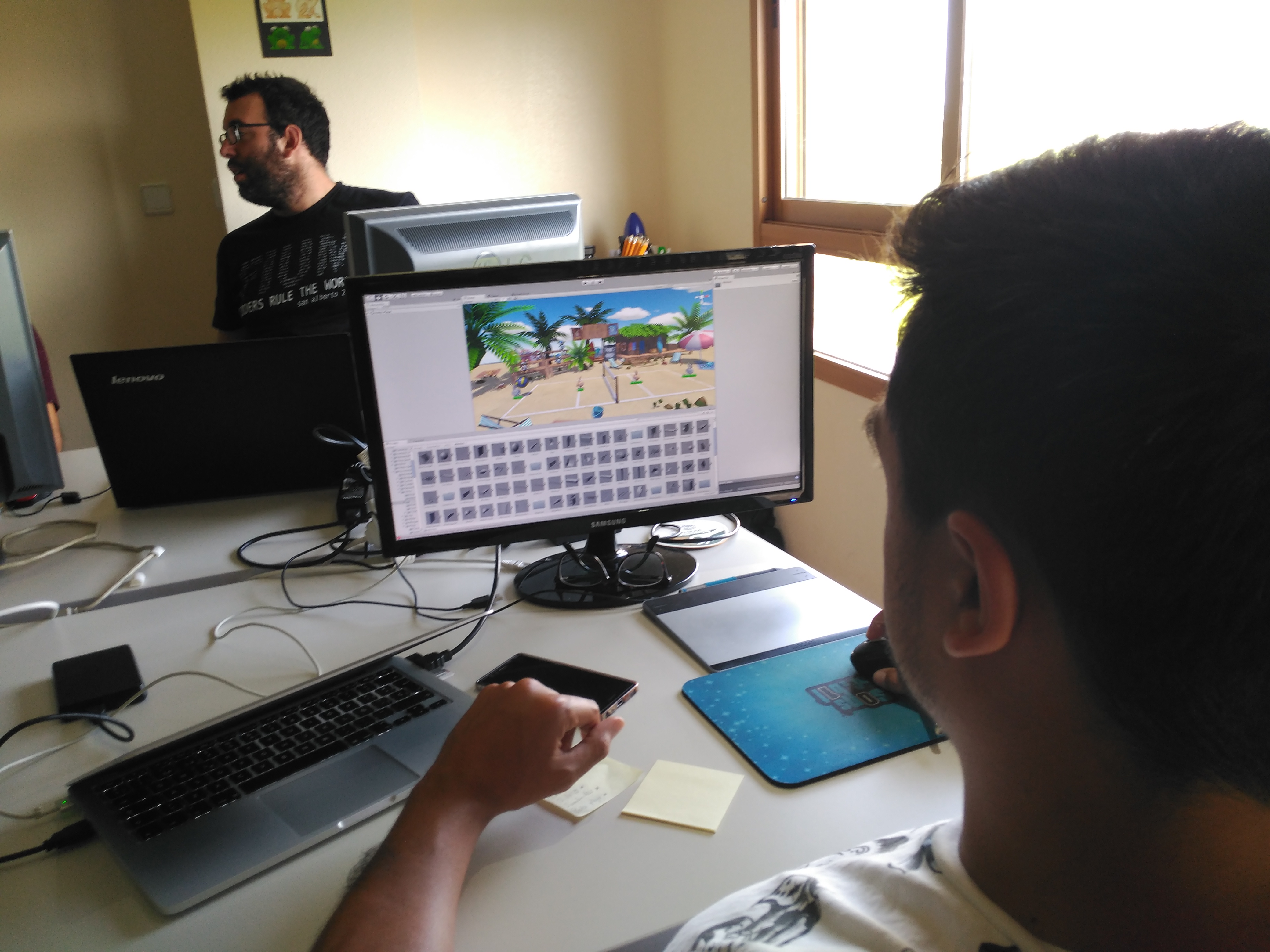 Adrián – Great. How long have you been working for Sons?
Álvaro – It'll be 2 years very soon.
Adrián – You've been here for almost 2 years, but the team grew a lot a couple of weeks ago.
Álvaro – It's true! At first, we were 6 or 7 people here and we worked very well together. We attended some events together, such as Gamelab (Barcelona), and we got along with each other. Now, with the new coworkers, we keep on working very well. I can see people full of illusion, eager to work and learn! I'm sure they'll learn a lot from us, but we'll also learn a lot from them.
Adrián – Right now, you're involved in different projects, but Islabomba is the one to be released earliest. For those people who still don't know Islabomba, could you please explain what the game is about?
Álvaro – It's a cooperative game full of puzzles and platforms. It's very dynamic and teamwork using the unique skills of the 3 main characters is really important. The main objective is to put out the bombs players will find throughout levels before they explode. Moreover, a Battle Mode and Mini Games will also be included to provide the game with even more diversity.
Adrián – And how is the development going?
Álvaro – Since we used to be less people in the team, the development was slower, things were done little by little, but now that the team is bigger, it's become very productive. We're learning a lot and the new members will help us finish Islabomba much faster, as well as the other projects to come.
Adrián – What has been your biggest challenge so far? Do you remember anything in particular that made you get stuck?
Álvaro – Yes, I do. The Throne Room of King Nasty, the bad guy in the game. I created it and, later on, I realized I wasn't satisfied with the result. So I had to 'build' it again from the scratch.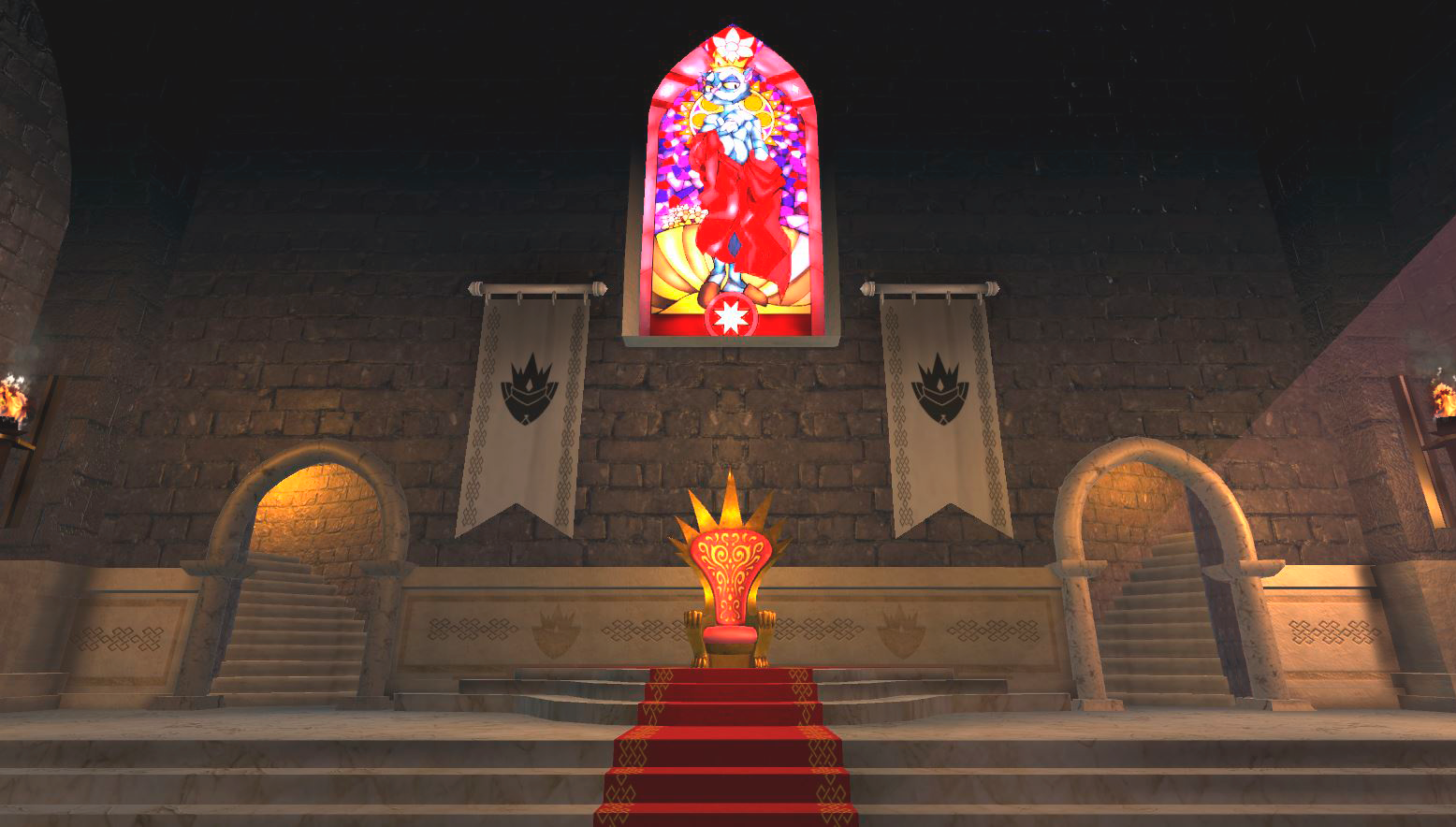 Adrián – You've been showing Islabomba at events as Gamelab or Gamescom for the last 3 years. How do people react when they play the game?
Álvaro – People's opinion has been very positive. Boys and girls of all ages really have a good time playing the game coop, as well as parents with their siblings. We also receive a lot of valuable feedback every time we attend an event, so people have played an important role to make Islabomba the game it is today.
Adrián – What makes Islabomba different?
Álvaro – We really think it mixes puzzle and platform games really well, together with the time limit to complete levels, which provides the game with its own personality. It's frenetic playability will be the feature which will make the game stand out, specially if you play with friends locally or online. Moreover, I think that its puzzles will get people hooked until they solve them, not only when they're in front of the screen. I can imagine people at work or carrying out other activities and thinking: "What can I do to complete this level?", which is really cool. I hope people like it a lot and enjoy the game.
All this is something people will see in the version for mobile devices, Islabomba – Ready to Boom, which will release very soon and will work as an amazing sample of the things you'll find in the version for consoles and computers.
Adrián – Well, Álvaro, I need you to be honest with the last question. Sony, Nintendo or Microsoft?
Álvaro – I have always supported Sega (laugh), but nowadays I love video games for Nintendo and Sony systems. Regarding Sony, I really like the Uncharted saga, specially the second game. About Nintendo, I absolutely love Zelda: Breath of the Wild. However, I must recognize my favorite game is Zelda: Wind Waker.

Adrian – This is the end of the interview, Álvaro. Thanks for everything!
Álvaro – Thank you, Adrián. It was my pleasure.